Create the ultimate custom photo polaroid
with our 3-in-1 / 2-in-1 Holographic GIF prints.
Over 15,000 unique PrintX polaroids have already been received by our happy customers for themselves and their loved ones.
Order your very own customised PrintX holographic polaroid that consists of 3-in-1 (or just 2-in-1) photos in each GIF print.
Our animated holographic prints come in 2 sizes, Regular (credit card size) and XL (10cm by 10cm square) sizes.
★ Perfect for putting at the back of your phones keeping in wallets/purses. You can choose to add on transparent casing or luggage tag in your order. 
★ As the Regular animated print is 8.5cm by 5.5cm, we recommend:
Atleast one close up selfies (or crop nearer before uploading).
Well lit up
Portrait photos (Do not use landscape photos as it will appear sideways in the GIF print)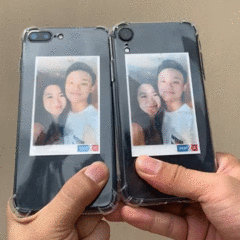 ★ Ideal for placing inside birthday, anniversary or other greeting cards, sticking on your desktop or fridge, or even decorating your notebook/file. 
★ We also highly recommend using well lit up photos so that the colours would pop and look better in the finished product. 
★ As the XL animated print is larger (10cm by 10cm), it is more suitable if you have many people in the photo.